Mother's Day is approaching. If the words of gratitude are still in the mouth, it is better to convey your feelings to your mother with a gift. A water bottle is the most suitable gift for mothers and a must-have at all times. Donuttle™ water bottle can meet all your requirements for a water bottle and convey love to your mother.
If your mother often travels on business trips, choose a light and easy-to-carry water bottle for her. It allows your mother to hydrate her body anytime, anywhere.  Donuttle™ pocket bottle is highly flexible and lightweight, making carrying a water bottle less troublesome. It can be fold down for easy storage in her bag and then expand again when it's time to fill up. Your mother may take a lot of things with her on business trip, and space can be at a premium. Saving a room with Donuttle™ pocket bottle might be the ideal solution.
If your mother's daily work is very busy, then choose a large and durable water bottle for her. Donuttle™ water bottle is the best option. It is available in a variety of capacities, the largest capacity can reach 1500ml, which can meet a person's daily drinking water needs at once. Large capacity for choose, mothers can urge themself to drink more water, and ensures her enjoy one full water bottle without having to refill it frequently. It also avoids insufficient water due to busy work. 
Donuttle™ water bottle can also help mothers to express their personality. A colorful design can become a cheerful addition to her office. Donuttle™ water bottle is available in 6 bright colors. At the same time, its uniquely pattern is also easy to identify. She probably won't mix it with someone else's in a rushed meeting, and she can keep it in the company refrigerator without worrying about someone taking it away by mistake. You can write what you want to say to your mom on the water bottle and she will be happy to see your words while she drinks.
Donuttle™ water bottle is also great as a parent-child water bottle. It has 3 capacities. You can choose any two capacities for you and your mother to carry. Donuttle™ bottle's bright colors are more attractive. Carrying a parent-child water bottle is extraordinarily fashionable whether shopping or traveling, and the picture is also very warm. Overall, going out with mother carrying a Donuttle™ water bottle can not only show the healthy and optimistic attitude of the whole family, but also bring a lively atmosphere.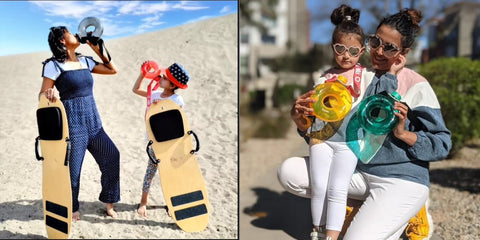 If you didn't remember to send her a gift in the past days, this Mother's Day, give her a Donuttle™ water bottle. Tell her that you love her very much, and express your love bravely. May all mothers in the world be healthy, beautiful and happy.